After five years building a loyal following in the US, UK, and Canada, Dr Roebuck's have decided to finally head home and bring their signature "Roe Glow" to Australian skins. 
Dr Roebuck's describe their range of PETA certified, cruelty-free skincare as: clean beauty, bottled, but what does clean beauty mean? 
To Dr Roebuck's clean beauty means a clean conscience. 
It means using on the purest botanicals and skin-safe ingredients that have been ethically and sustainably sourced. 
It means creating simple but scientifically proven formulation that hero minimal ingredients for maximum results. 
It means no fillers, no nasties, no worries. 
It means PETA-certified, cruelty-free skincare that does no harm to animals, local farming communities, or the planet. 
The Dr Roebuck's Story 
Mad for sun, sand, and surf identical twins Kim and Zoe were incredibly fortunate to grow up in the waves of some of our Australia's best beaches…until all that fun in the sun and salty water ended up wreaking havoc. Hello painful eczema and dry, sensitive skin. 
Their parents-both doctors-dedicated themselves to finding a solution. With the help of a compound chemist, they created a simple but incredibly soothing salve that healed the sisters irritated skin and helped them to feel like themselves again. 
As the years went by, Kim and Zoe grew into passionate advocates of clean beauty. Inspired by their parents' belief in using minimal ingredients for maximum results, they created Dr Roebuck's in their honour.  
Based on an easy-as 4-step routine, their priority is to bring your complexion back to its healthiest, most radiant state to reveal your "Roe Glow": the very visible difference that clean products can make to your skin.  
To ensure their products deliver the best possible results every vitamin and antioxidant is handpicked for maximum efficacy, with every product containing no less than 4 and no more than 10 scientifically proven ingredients. After all, less is (so much) more.  
Dedicated to creating multi-benefit, results-driven skincare. Their range of dermatologist-approved products hero scientifically proven, and ethically & sustainably sourced ingredients, including native botanicals sourced by indigenous communities around Australia. 
Developed for even the most sensitive of skins, their products do what they say and make your skin feel how it should. 
Meet Their Global Best Sellers 
A hydrating and soothing cleanser that leaves your skin feeling soft, nourished and clean. Key ingredients: Oat Leaf, Calendula, Arnica, Green Tea, Jojoba Oil, Macadamia Oil, Bergamot, Echinacea.  
A potent, multi-tasker powered by Copper Peptide that reduces wrinkles and fine lines while improving the elasticity – or 'bounce' of the skin. Key ingredients: Copper Tripeptide, Primalhyal Ultra Filler (boosted Hyaluronic Acid), Hyaluronic Acid, Banksia Flower. 
Over a 6-week clinical trial of Ningaloo Firming Serum participants saw an improvement in the visible signs of ageing: 
Increase in gross elasticity.  
Reduction in wrinkle length and depth 
Faster skin cell renewal 
84% noticed an increase in skin tone and luminosity. 
76% noticed a reduction in fine lines, wrinkles, and an improvement in skin clarity. 
*Based on 41 women aged 30-65 years old, using Ningaloo Firming Serum twice  daily for 6 weeks. 
A light to medium-weight moisturiser that hydrates, heals and nourishes the skin. 
Key ingredients: Hyaluronic Acid, Macadamia Oil, Vitamin E, Rosehip Oil. 
Over a 6-week clinical trial of No Worries Hydrating Face Moisturizer* 
96% saw an improvement in skin smoothness and softness. 
76% noticed an improvement in their skin's firmness and elasticity. 
76% saw an improvement in fine lines and wrinkles around the eye area. 
*Based on 50 participants using No Worries Hydrating Face Moisturizer twice daily for 6 weeks. 
A dual action, deep cleansing 2-in-1 exfoliant for brighter, smoother skin. Key ingredients: Biodegradable Jojoba beads, Macadamia Oil, Kaolin, Vitamin E, White Tea, Peppermint Oil, Grapefruit Oil. 
WHY WE LOVE THEM: 
Dr Roebuck's are clean beauty, bottled. What that means for your skin is: 
Minimal Ingredients for Maximum Results
Every Dr Roebuck's formulation contains between four and no more than 10 ingredients.  
No Fillers, No Nasties, No Worries
They actively avoid the use of parabens, sulphates, phthalates, and silicones that can irritate the skin yet are still commonly used by so many brands. 
Ingredients with Integrity
They hero native Australian botanicals that are ethically sourced, sustainably grown, and scientifically proven to deliver real results. 
An Easy-as, 4-step Routine 
They cleanse, treat, moisturise, and mask. It's that simple. 
Translation:  healthy, happy skin glowing back at you in the mirror. You're welcome.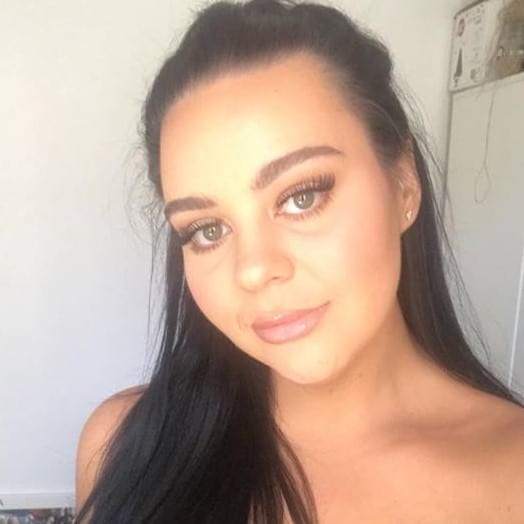 A coffee addicted, YouTube obsessed Libran, I absolutely live and breathe all things beauty! I love to try new products and find myself switching things up regularly, as I continue on my ultimate quest to find the perfect flawless base and skin-care regime.