Social media isn't just a place to catch up with your friends or share your pictures of your latest bake. It can be a great place to learn more about just about anything, and one area where this is particularly popular is in skincare and beauty. Many influencers are not only sharing their favourite products, but are giving helpful tips, a closer look at skincare routines, and offering a space for skin positivity, providing an honest and vulnerable insight into life with skin conditions such as acne. 
Some 'skinfluencers' have found a great deal of recognition with millions of followers and earning potential across some of the most popular social media platforms. Here at LOOKFANTASTIC, we wanted to find out the most popular skinfluencers so took a look at the content creators with the biggest followings on TikTok and Instagram, compiling our Skinfluencer Index.
Australia's Most Popular Skinfluencers and Beauty Influencers
Australia is home to some of the best influencers in beauty and skincare with millions of followers across Instagram and TikTok. Here are our top 10 Aussie influencers to follow: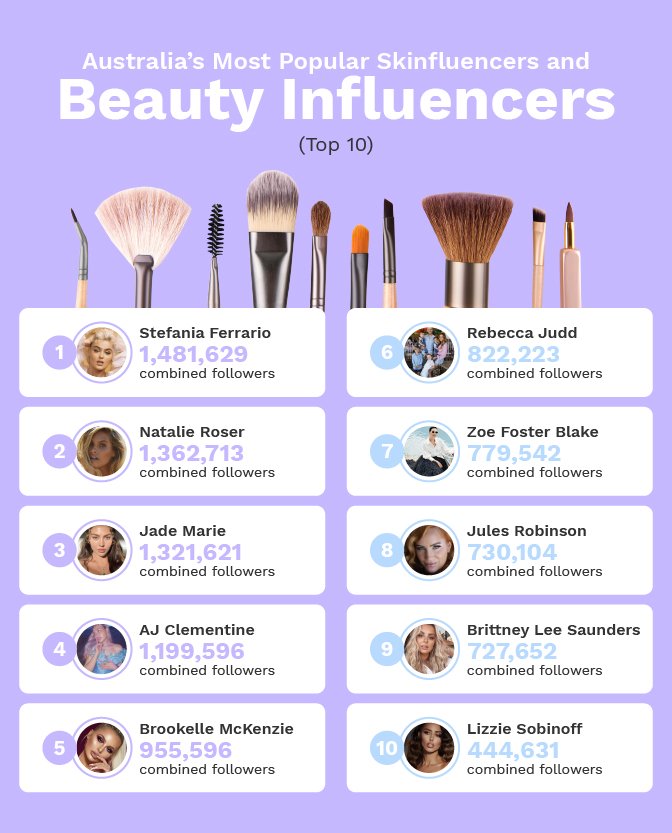 Stefania Ferrario and Natalie Rose, who come out as first and second places respectively, are both Australian models who have flawless complexions, and share their favourite skincare and beauty products with their followers.
Jade Marie is Australia's third favourite skincare and beauty influencer and has over 10 years of experience in the skincare and beauty industry and she also has a popular YouTube channel! Jade shares all her tips, tricks and insights from her profession as a holistic medical aesthetician.
The Biggest Skinfluencers in the World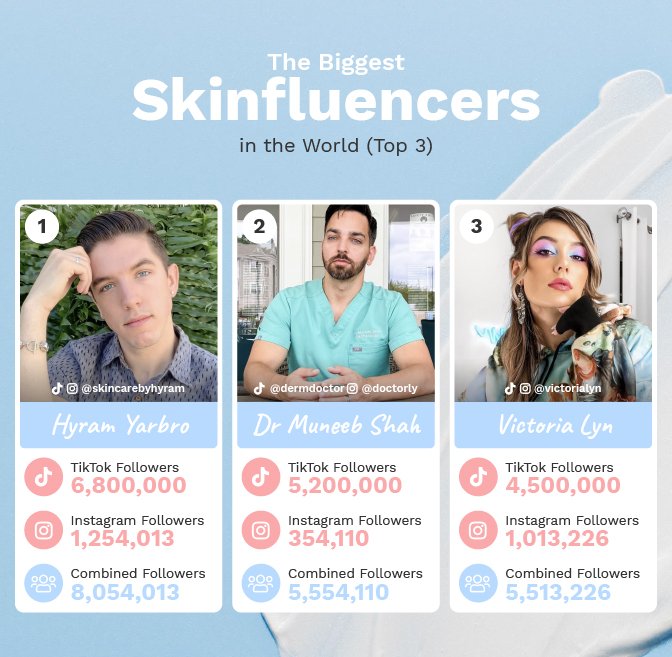 Hyram Yarbro - 8,054,013 total followers
After initially finding fame on YouTube, Hyram has turned his skincare advice, reviews, and reactions into a Gen Z-fuelled skinfluencer empire. With a combined following of over 8 million followers across TikTok and Instagram, he is our most popular skinfluencer.
Dr Muneeb Shah - 5,554,110 total followers
Despite being pretty new to the TikTok scene, Dr Muneeb Shah has taken it by storm, earning himself over 5 million followers in less than a year. This medical dermatologist helps to debunk skin care myths and advises on the best way to look after your skin.
Victoria Lyn - 5,513,226 total followers
Victoria combines her love of beauty and makeup with skincare, creating fun and informative content with tips and tricks on how to get your skin glowing as well as showing off her fun makeup looks and showing off her favourite products.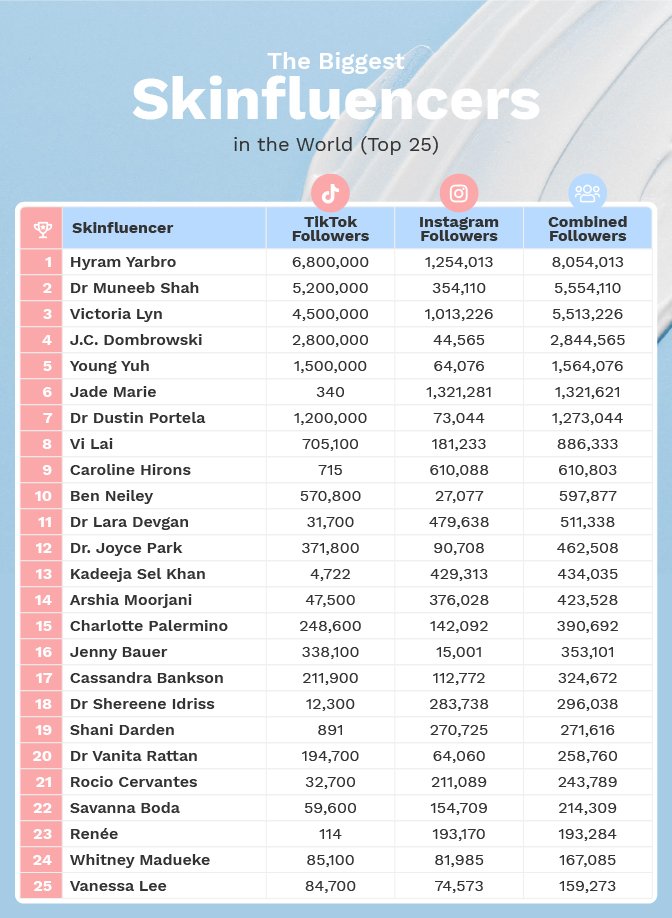 The Most Popular Skincare Brands
We also wanted to find out which skincare brand name is the most searched for, so we took a look at Google search data to discover which brand names have been searched for the most over the past year.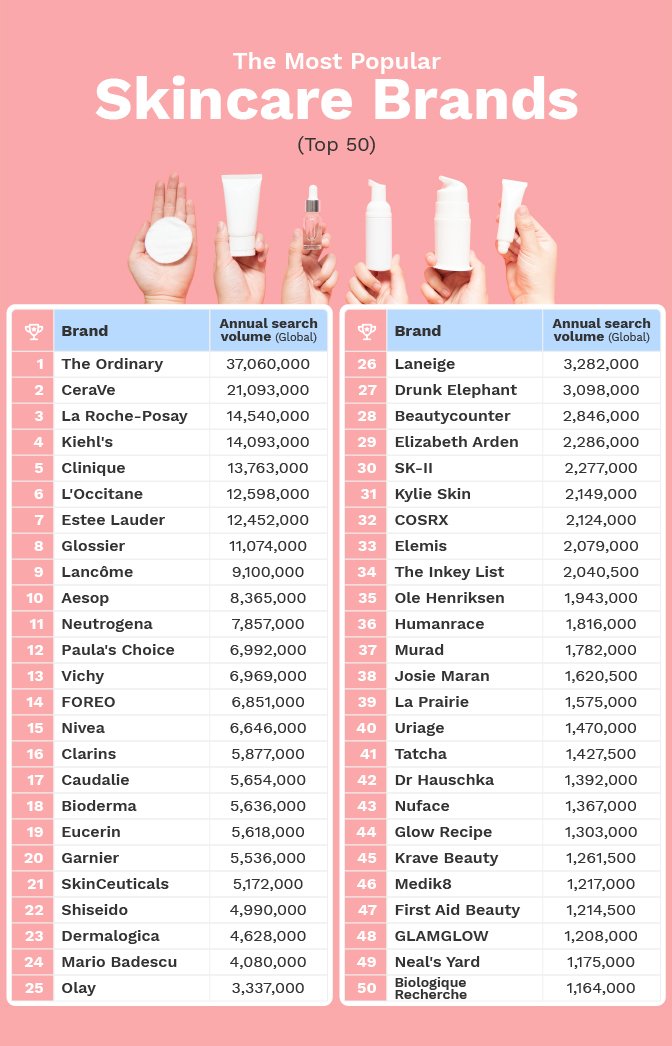 The Ordinary is fast becoming one of the most popular skincare brands out there. With a focus on using only the best-quality ingredients, this brand is known for its products that do exactly what they say on the bottle. The whole range is cruelty-free and does not use parabens, sulphates or mineral oils, so you know exactly what you're getting with these products. It's no wonder then, that this brand tops the list with over 37 million global searches over the past 12 months, far outstripping the next most searched skincare brand.
Also on the list of popular skincare brands are some well-known names such as CeraVe, a cult skincare brand that has found fame in recent years on TikTok (with over 21 million annual searches) and La Roche-Posay a French brand back by dermatologists that racked up 14 and a half million global searches in the last year.
Methodology:
We used a range of sources to find our initial list of influencers, including Glamour, Elle, Cosmopolitan, and Feedspot. With this list, we then looked at the TikTok and Instagram followings of each influencer.
We looked at over 250 skincare brands from around the world, including both those available at LOOKFANTASTIC and other popular brands from around the world. We sourced these popular brands from online research using articles and magazines from the likes of Harper's Bazaar, Vogue, and Byrdie.
We used Google Ads Keyword Planner which is a tool from Google to see how many times a search term has been searched for, to find the search volume of each brand. To ensure that the search data is accurate, we eliminated as many false positives on the searches where the brand names have other meanings. We collected the global search data for each brand between April 2020 to March 2021 and listed the top brands based on the brands with the highest search volume between this period of time.
All data correct as of 5th May 2021.