The hottest hair and beauty trends, products, and influencers on TikTok
This past year has officially been the year of TikTok, with the global pandemic only serving to increase its meteoric rise. 
2020 and 2021 have seen people of all ages jump on the latest social media app to take the world by storm.
It's become clear that TikTok is not only for viral challenges and dances. The platform has quickly established itself as the go-to place for hair and beauty inspiration, helping users to discover the latest viral products and game-changing trends.
So what are the hottest trends and products on TikTok in 2021 and who are the beauty queens that we love to follow more than any others?
To find out, we've put together the LOOKFANTASTIC TikTok Beauty Index, analysing which hair and beauty trends, products and influencers have the most views and followers today.
The hottest hair and beauty trends on TikTok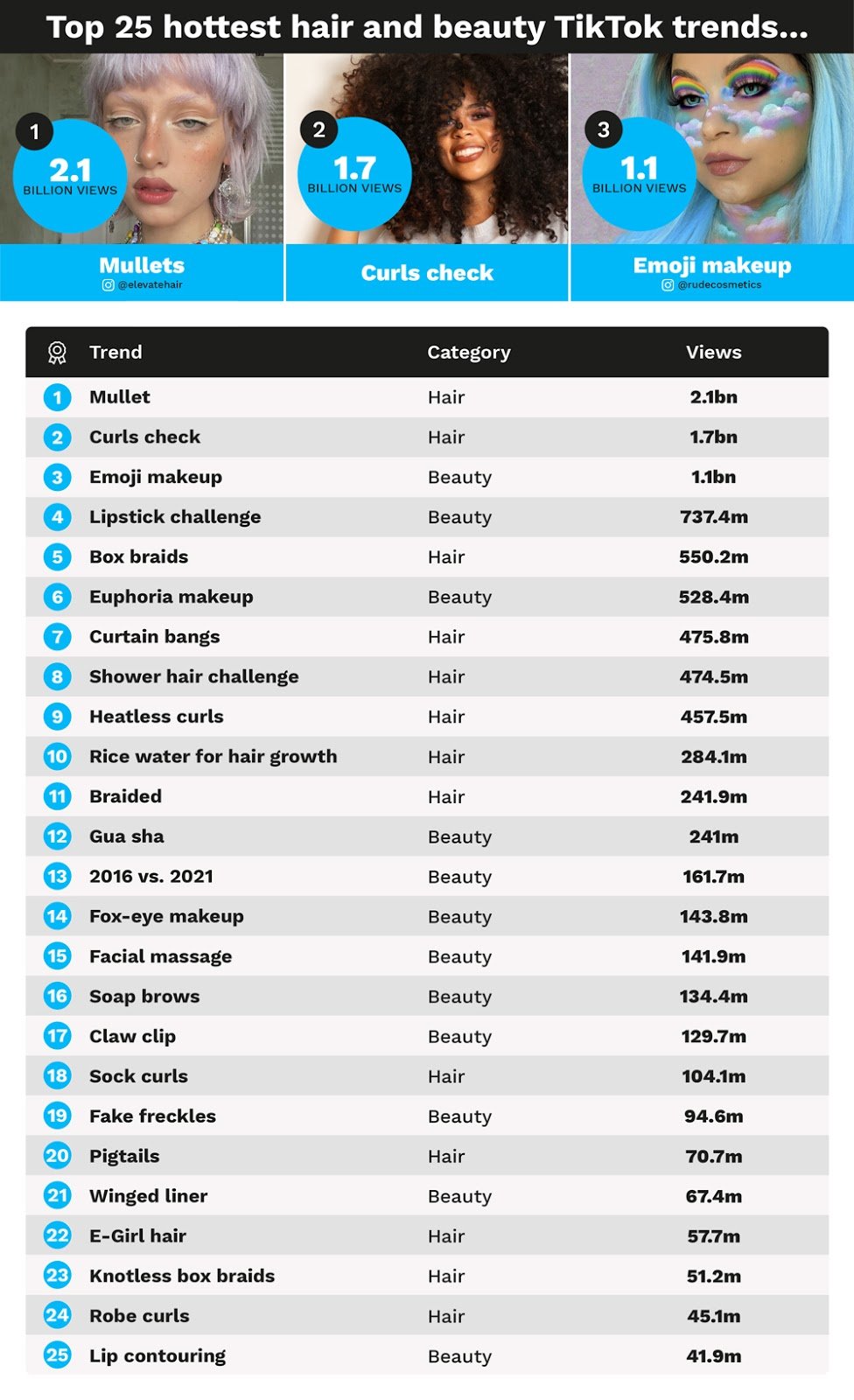 Mullets - 2.1 billion views
TikTok is known for being the platform of Gen Z, but the hair trend that has more views than any other is a throwback to a time when most of its users probably weren't even born! That's right, videos tagged with the hashtag #mullet have been viewed more than two billion times on TikTok. After seemingly being left behind in the 1980s, the 2020s have seen the resurgence of the 'modern mullet', but whether the style survives remains to be seen!
Curls check - 1.7 billion views
This trend went viral over the summer of 2020 and started with a video by user @thedaniellelife, who used specific products to unleash secret curls hidden in her previously straight hair. This led to thousands of people trying out the method for themselves, with over 1.7 billion views for the hashtag #curlscheck.
Emoji make-up - 1.1 billion views
TikTok is truly a space that allows people to get creative and one of the best examples of this is in the trend for 'Emoji makeup', which is exactly what it sounds like, with people attempting to transform their face into a real-life emoji. The results are often jaw-dropping, so it's perhaps no wonder that videos embracing this challenge have racked up just over a billion views on the platform.
Top 10 most popular TikTok hair and beauty products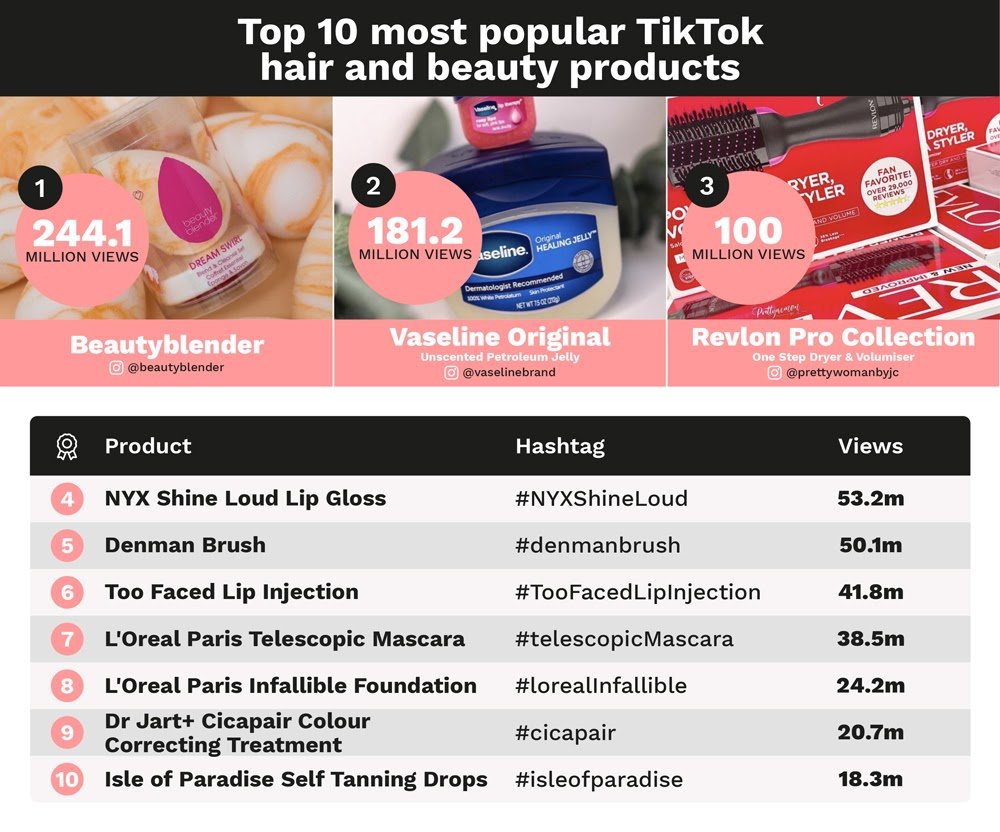 Beautyblender - 244 million views
The Beautyblender is a game-changing makeup sponge that has taken the world by storm. Easy to use and with flawless results, it's easy to see why people love the Beautyblender so much, but it's still staggering to see that videos with the tag #beautyblender have been viewed over 244 million times on TikTok. Many of those videos share handy tricks to clean your Beautyblender, including one viral method which involves popping them in the microwave!
Vaseline Original Unscented Petroleum Jelly - 181 million views
Sometimes you can't go wrong with the basics, which is clearly the case when it comes to everybody's favourite petroleum jelly: Vaseline. Videos featuring Vaseline have amassed over 181 million views on TikTok, including many featuring the 'slugging' skincare trend, which consists of people covering their faces in Vaseline before going to bed and supposedlywaking up with glowing, hydrated skin.
Revlon Pro Collection One Step Dryer & Volumiser - 100 million views
The highest-ranking hair product on our list is Revlon's One-Step Dryer & Volumiser hot airbrush, with 100 million views for the hashtag #revlonhairdryerbrush. Essentially performing as a hairbrush and hairdryer in one tool, it allows you to create effortless loose waves and add volume and works on a variety of hair types, and has clearly been a huge hit on TikTok.
TikTok's most influential beauty gurus

James Charles - 36.1 million subscribers
By far one of the best-known faces in beauty is that of James Charles, and alongside his 36.1 million fans on TikTok, he also has over 27 million on Instagram and 25 million on YouTube too. In a predominantly female-dominated sector, he's one of the biggest male (and LGBTQ+) voices in beauty. He's not just a big deal in the beauty world either, winning numerous awards for his work as an influencer, including two People's Choice Awards.
Abby Roberts - 16.3 million subscribers
Abby Roberts is a British makeup artist, who at just 19 years old is already one of the platform's most recognisable faces. After honing her craft as a pre-teen through watching tutorials of accounts such as NikkieTutorials and Jaclyn Hill, she now has over 16 million subscribers and was recently a judge on the BBC's Glow Up reality show. Her sister Charlotte is also a makeup artist on TikTok and sits in fifth place on our list, with 8.3 million subscribers.
Mari Maria - 14 million subscribers
Taking third place on our list is Mari Maria, a Brazilian beauty guru who has been a hit across the globe, with 14 million subscribers on TikTok alone. Known for her transformation tutorials, Mari also posts updates from her family life with her husband and son too!
Australia's TikTok beauty kings and queens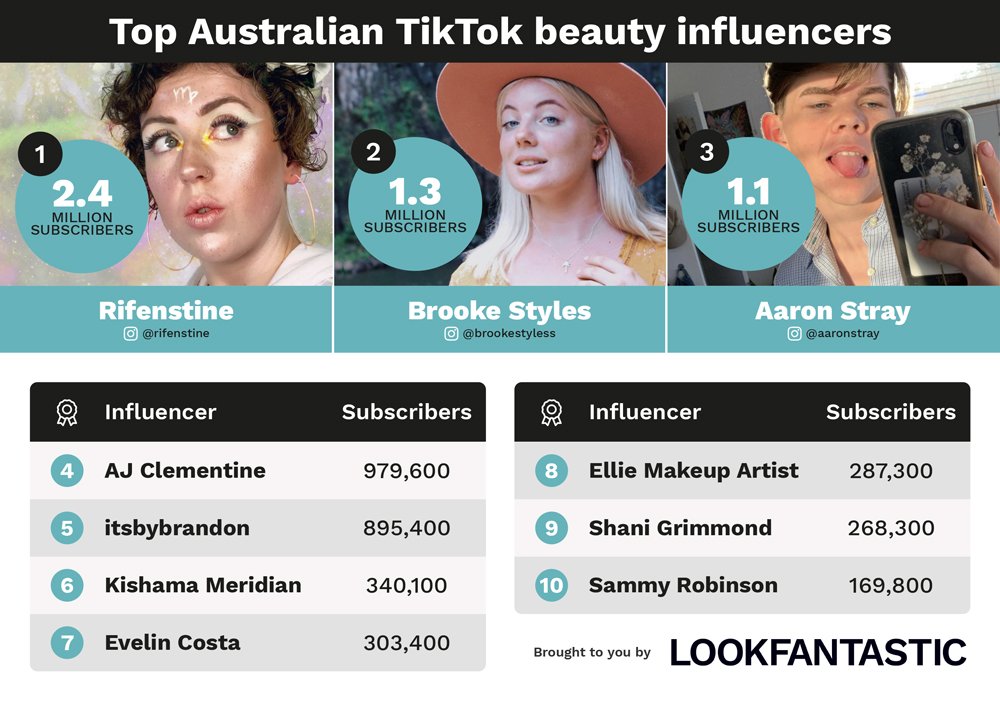 Finally, we also looked more specifically at the beauty TikTokers who are dominating the scene here in Australia.
Rifenstine - 2.4 million subscribers
The biggest Aussie beauty influencer on TikTok in 2021 is Janet Louise Reifenstein, better known by her TikTok handle Rifenstine. Her makeup tips and tutorials are on the more dramatic end of the spectrum, with colourful transformations alongside a serving of comedy sketches too, earning her over 2.4 million subscribers on the platform.
Brooke Styles - 1.3 million subscribers
In third place is Brooke Styles, from the Sunshine Coast, who has amassed millions of followers across her TikTok, Instagram and YouTube accounts. As well as fashion hauls, photography and other lifestyle content, she often posts glimpses into her beauty routine and favourite products.
Aaron Stray - 1.1 million subscribers
Aaron Stray (also known as azzakabazzas), is the highest-ranked male beauty TikToker in Australia, with 1.1 million subs and has gained popularity for his detailed special effects makeup montages.
Methodology
We identified some of the most popular beauty trends and products on TikTok using various articles from sites such as Grazia, Glamour and more.
We then found the number of views on TikTok videos that mentioned each trend and product using hashtags, as of April 19th 2021, revealing the top 50 most viewed trends and top 25 products.
We also identified the most followed TikTok beauty influencers both globally and in Australia, again using lists and articles from industry publications to build our initial list before revealing the 25 influencers with the most followers as of April 19th 2021 (top 10 for Australia).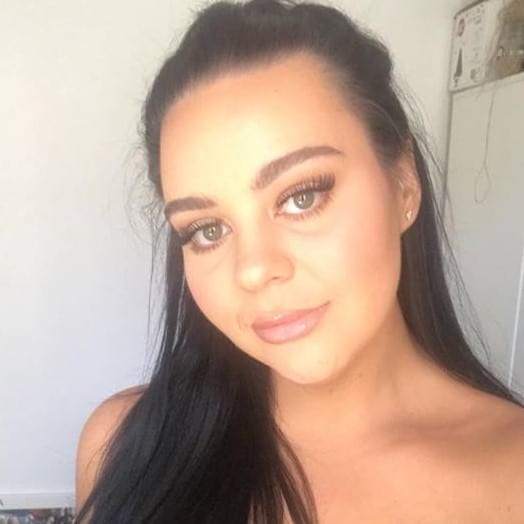 A coffee addicted, YouTube obsessed Libran, I absolutely live and breathe all things beauty! I love to try new products and find myself switching things up regularly, as I continue on my ultimate quest to find the perfect flawless base and skin-care regime.