Purple Shampoo (A blonde's best friend)
Have you ever wondered which purple shampoo is right for you? Do your blonde locks need a freshen up between salon visits this lockdown period? As not all blondes are created equal you might find yourself wondering which purple shampoo is the best for your hair. To learn the what, why and how of purple shampoos as well as which products will help you achieve your desired results at home, read on!
First off, what is a purple shampoo?
Purple shampoo is typically used on blonde, silver or white hair that tends to become yellow. The shampoos have a somewhat transparent purple or blue hue that neutralises the yellow brassy tones in your hair. Why Purple? This is because it is the opposite of yellow on the colour wheel and opposing colours have the ability to cancel each other out.
But why is my hair turning yellow?
Locked down? You've left it a little long between salon visits and the underlying natural pigment of your hair is coming back to say hello. When hair is lightened it strips away the other colours and exposes a pale-yellow tone which is then counteracted using a gloss or glaze. A gloss penetrates the hair cuticle often with an ashier tone lasting up to a month. A glaze coats the hair shaft with a semi-permanent colour and shine lasting about 1 – 2 weeks.
Environmental Damage. Yellow tones in the hair can be made more prominent by things such as pollution, smoke, sun and chlorine from swimming (Try using a cap to protect your hair in the pool) and be aware that even the water from your shower can affect the integrity of your colour. This is called hard water and refers to water containing a high mineral count. If you think this is playing a role in your fight against yellowing hair, might I suggest a filtering shower head.
Styling Products and Heat. Using too much heat while styling as well as applying products such as hairsprays and waxes can add unwanted yellow deposits on the hair, as can the incorrect usage of shampoo and conditioner. Opt for colour-safe products where possible and alternately use a clarifying shampoo to diminish this type of yellow pigment. Next comes the introductory use of purple shampoo.
How are you feeling? Various health conditions and medications as well as what food you're putting into your body can contribute to a yellow tone in hair. If this is a concern to you, seek medical advice and try switching up your diet with the help of a nutritionist.
How do I use a purple shampoo?
To brighten up your blonde and eliminate those pesky yellow tones start by using a purple shampoo once a week and increase if desired. How much to use you might ask? Apply a generous amount to wet hair (in the shower) and massage in as you would any other shampoo. On the other days, use a colour-safe shampoo, they can even be mixed together to dilute the concentration for a less intense violet deposit onto the hair. If you find that your hair has been unintentionally tinted purple as a result of using the product too frequently, a clarifying shampoo can be used to remove the tone (the same way it can be used to remove the yellow tinge from too much heat and styling).
So which purple shampoo should I use?
Almost every blonde shampoo has a different tone. Take a look below to find out your blonde BFF!
Are you looking to achieve an icy blonde result?
With micro blue violet colour pigments this shampoo will dramatically diminish gold and yellow tones in bleached blonde and highlighted hair. Anti-heat, UV, humidity & oxidation protection.
Achieve a stunning cool ice-blonde look and brilliant shine with this shampoos Active Moisture Complex providing a gentle cleanse and superior moisture.

Are you naturally blonde or have bleached, grey or white hair in need of a little added shine and softness? This is an excellent option for you. It has the added benefit of protecting against frequent washing and environmental pollution.
Want a more moderate tone?
This vegan cleanser lightly tones pale yellow, gold or brassy reflects while detangling, softening & restoring the condition of your hair.
Are you a Brunette with foils, highlights, balayage or streaks that have progressed to overly warm, orange tones? You will need a bluer toned shampoo to neutralise your brassy tones. Look at these fabulous options…
Colour correcting on contact this blue shampoo eliminates overly warm, orange tones that tend to appear in chemically lightened dark hair. A bio-advanced peptide complex provides reparation, protection, shine and frizz-fighting technology.
Ideal for brunettes that lighten their hair, red heads and suitable for all hair types, this formula effectively dissolves dirt while depositing blue-violet pigments that counteract copper and yellow tones. Developed with nourishing vitamins and essential oils, this toning shampoo helps to fight against breakage while adding shine.
Do you need more of a treatment with your tone up?
This post shampoo treatment will provide a salon fresh feeling with intense hydration, perfect conditioning and prolonged colour intensity and tone at home.
A 3-minute conditioner that provides instant colour and beautiful tone combined with a treatment to nourish, repair, hydrate and add shine.
Looking for more haircare? Discover which natural haircare brands we've been loving here!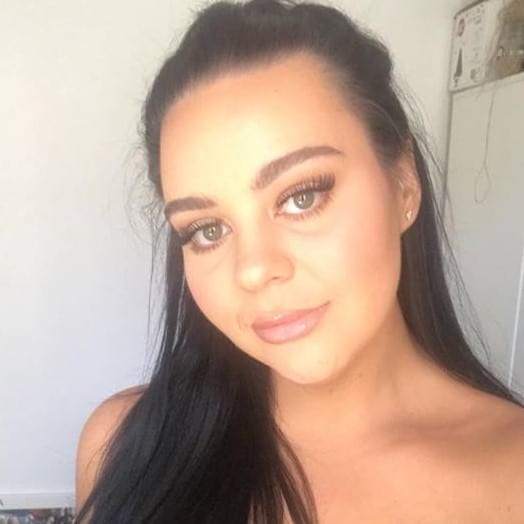 A coffee addicted, YouTube obsessed Libran, I absolutely live and breathe all things beauty! I love to try new products and find myself switching things up regularly, as I continue on my ultimate quest to find the perfect flawless base and skin-care regime.