Hurraw! is a lip balm brand that was born out of the need for an all-natural, vegan range that met quite the line-up of stringent criteria. Disappointed by sugary, grainy formulas that struggled to nourish chapped or dried-out lips, the founders of this ethical brand set out to create an alternative that everyone could enjoy without negatively affecting the environment.
Each Hurraw! product makes use of key organic ingredients, including oils and waxes extracted from nature. Individually hand-poured and completely cruelty-free, they're the most ethical lip products in the beauty industry. Almond oil, cacao butter, argan oil and more are cited amongst the growing list of botanical and natural extracts used by Hurraw!
These botanical ingredients are a key contributor to the overall feel and staying power of Hurraw! balms. Each product within the range is highly nourishing, soothes and calms sore areas, and actually works over time rather than causing more drying to occur. One application is all you'll need with Hurraw!, as the formulas are incredibly long-lasting, however they're compact and cute enough to pop in your bag for all-day touch ups if you desire.
As a result of these benefits, they've garnered the attention of many a professional, in addition to beauty bloggers and even celebrities. Shannon Harris of Shaaanxo, alongside many other prominent makeup-lovers, is a proponent of Hurraw! products.
Hurraw! are also known for their huge array of unique scents, which includes both traditional favourites and some out-there additions suited to practically every taste. Opt for Lemon or Coconut for a tropical vibe, or get your early-morning java fix with the Coffee Bean scent. Looking for something a little different? Hurraw! boast flavours such as Earl Grey, Root Beer, Licorice and Papaya Pineapple as part of their range. They've even developed a fragrant Almond, Cardamom and Rose lip balm inspired by the Ayurvedic principle 'Vata'.
Hurraw! are also on a mission to increase sustainability through their products, using recycled and environmentally-friendly packaging to encase their famous balms. Where they cannot deliver this promise, such as through their non-leaching plastic tubes, Hurraw! ensures they are always researching and striving to come up with a better alternative.
If you're on the hunt for a lip balm that truly nourishes the lips without any of the nasties, Hurraw! is the brand for you. Shop Hurraw! today with lookfantastic Australia, your official Australian stockist. We offer free Australia-wide shipping on all orders over $50, plus select Afterpay at checkout to shop now and pay later. ?

Hurraw! Green Tea Lip Balm 4.3g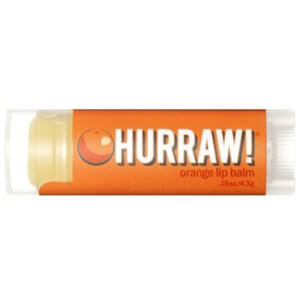 Hurraw! Orange Lip Balm 4.3g