Set yourself up for a 2023 of glowing skin and healthy hair with a routine that gives you exactly what you need. Looking at addressing beauty from a cellular-level, here we help you achieve your beauty resolutions (from creating an even, make-up free complexion to growing your hair longer faster) with science-backed beauty solutions from leading ingestible beauty brand Vida Glow.
Why Vida Glow's Advanced Repair range?
The next era of ingestible beauty. Vida Glow's Advanced Repair range is a range of targeted ingestible beauty solutions for concerns such as pigmentation, hair loss and growth and acne. The Advanced Repair range includes Radiance, Hairology and Clear and is powered by revolutionary technology, science-backed actives and proven results.
Radiance: Luminous skin, all year long
Radiance is a once-daily vegan capsule targeting signs of pigmentation including post-acne marks, age and sun spots, dark under-eye circles and uneven skin tone.
How does Radiance work?
Radiance works on a cellular level to actively reduce excess melanin production, improve microcirculation and support our natural antioxidant systems. It operates internally on different layers of the skin to address visible imperfections on the complexion and guard against future damage. Radiance is suitable for all skin types and multiple skin tone concerns.
Benefits of Radiance:
Brightens dull complexions and awakens tired skin
Helps to lift and reduce dark spots and circles
Reduces visible skin tone imperfections
Luminosity increases by 26%
100% of the subjects were satisfied with the visible benefits of this product
What results will I see from taking Radiance?
Early results can be seen after just one month of daily use. Full benefits can be seen two months after taking Radiance.
Radiance has been clinically studied to prove its efficacy. With the potent active SkinAx2™, results revealed that Radiance is clinically proven to increase luminosity by 26%, improve facial imperfections like melasma and dark marks and age and sun spots by 18%, and brighten dark circles by 12%.
Create your most effective Vida Glow Routine with the Vida Glow Radiant Skin Duo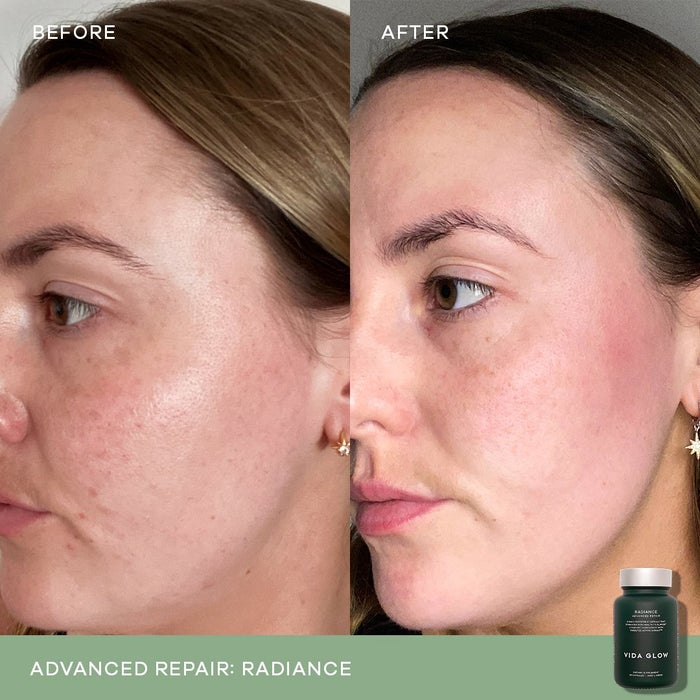 Hairology: Reduce hair loss by 34% for longer, stronger, thicker hair
Vida Glow's Hairology is a targeted, once-daily vegan capsule to reduce hair loss and support hair growth for longer, stronger, thicker hair.
What causes hair loss?
Hair loss can be brought on by lifestyle factors, like an unbalanced diet, nutrient deficiencies, stress or damage from colouring and styling. It can also be influenced by hormones and big life events like pregnancy.
How do you treat hair loss?
The health and density of our hair begins below the surface of the skin at the follicle. Each strand of hair is attached to a follicle. These are tiny organs that control our hair growth – they are the life source of our hair.
This is why hair concerns like hair loss are most effectively treated from within where topical products can't reach. By supporting the hair growth cycle and follicle health from a cellular level, our hair has what it needs to grow at its best.
How does Hairology work?
Hairology delivers bioavailable, clinically studied actives to hair follicles. This supports the hair growth cycle to reduce hair loss and thinning and promote healthy hair growth.
Benefits of Hairology:
Reduces hair loss by 34% after 28 days (1)
37% reduction of hair loss after 2 months of treatment (1)
Supports healthy hair follicles
Supports hair growth
(1).Grothe, T, Wandrey, F, Schuerch, C. Short communication: Clinical evaluation of pea sprout extract in the treatment of hair loss. Phytotherapy Research. 2020; 34: 428 – 431.Always read the label. Follow the directions for use. Vitamin and mineral supplements should not replace a balanced diet. If symptoms persist talk to your health professional.Clear: Rediscover your skin confidence and reduce symptoms of acne by 50%Vida Glow's Clear is a drug-free solution scientifically formulated for acne-prone skin.What causes acne?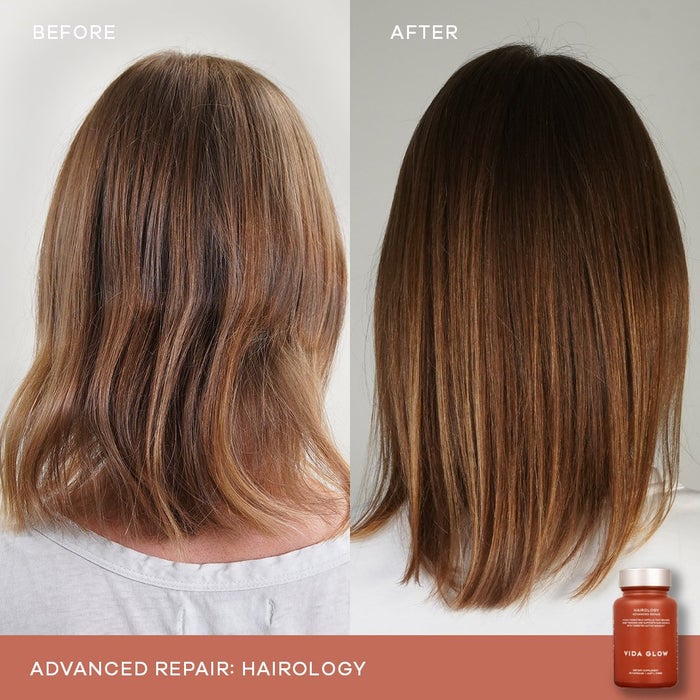 Acne is the most common skin disorder in the world. And it's estimated to affect 9.4% of the global population, making it the eighth most prevalent disease worldwide.
Acne can be brought on by several factors – like diet, stress, genetics, lifestyle, hormonal changes and medical conditions. And while the triggers of our acne and breakouts vary, the underlying causes are traced back to the same key factors: Excess or high production of oil, overgrowth of acne-causing bacteria and build-up of dead skin cells in the pore.
How does Clear work?
Clear is a targeted, once-daily capsule to relieve symptoms of acne and breakouts, including pimples, blackheads, excess oil and skin inflammation.
Clear works on the gut-skin axis to target the primary symptoms of acne. Using 2-in-1 capsule technology, Clear combines key vitamins, minerals and omega oil actives with a trademarked probiotic – AcuSolve™ – into one compact capsule.
Together, these ingredients work to restore skin health and clarity by reducing the severity of acne and breakouts.
Benefits of Clear:
Clear reduces acne by 50% in 3 months and relieves symptoms of acne including pimples, blackheads and oily skin.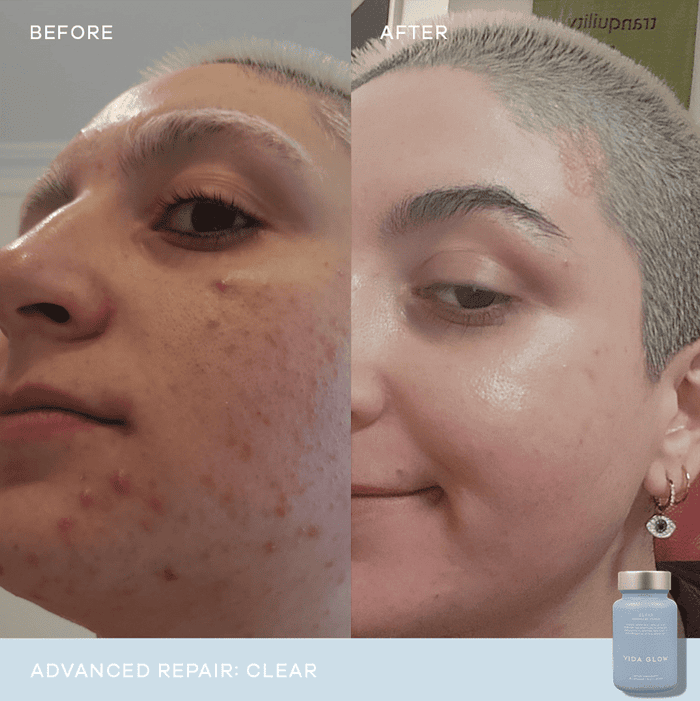 Boost your routine. We recommend adding Natural Marine Collagen and Anti-G-Ox Berry to advance your beauty regime.
Discover the range today and receive a free Vida Glow Clear Microfibre Facecloth when you purchase Vida Glow Clear.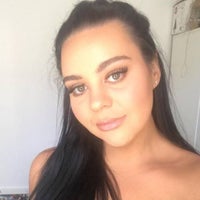 A coffee addicted, YouTube obsessed Libran, I absolutely live and breathe all things beauty! I love to try new products and find myself switching things up regularly, as I continue on my ultimate quest to find the perfect flawless base and skin-care regime.